Just before Christmas I embarked on another set of mods on the S2. Only just had chance to write it up.
So from the front of the car going backwards:
Remove front clam
Fit stainless steel towing post. Pretty easy job until you can't thread in your towing eye. :wall. Turns out the post is threaded at the rear rather than front and you need an extra-long towing eye for it to work! Contacted the seller and pointed out this wasn't mentioned, so he sent me one free of charge :clp
Fit silicone hoses to radiator – I can't believe after all the money the car has had spent on it there were still the original rad hoses in there! I got them from JSF performance and they have a nice bleed screw setup that can be replaced it if seizes.
Fit new uprated heater box. Made by fezzasus (Tom). Uses an electronic heater flap and really works! Needs the dash removing to fit it so the controls can be wired up. Looks like this: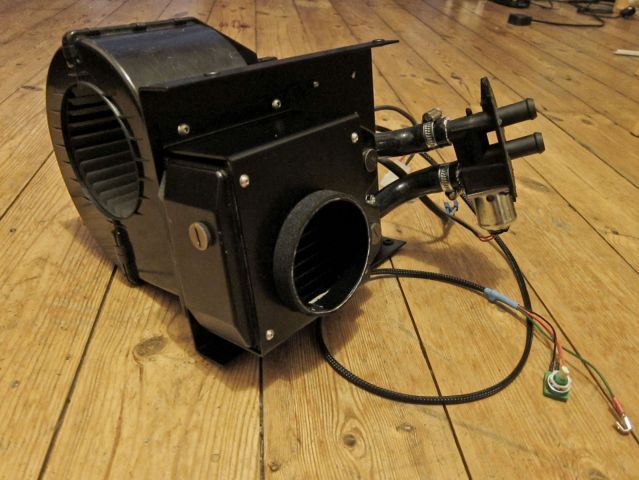 Direct fit to the k-series S2 and VX220. I now have a heater that puts out hot air. Drove in the cold and wind yesterday and was kept warm enough. With the roof on the cabin really heats up! The old radiator used to put out nothing but cold air.
Fit Mazda 323 7/8 inch brake master cylinder. It seems to be off the 1989-94 vintage car IIRC. Needs new holes drilling in the bulkhead as the screw holes are in a different place. TurboHarry (on SELOC)  has fitted this to his car and it needed a 25mm longer push rod. So I bought one from him and it should have been a straight fit. However for some reason mine only needed to be 15mm longer. So after taking 10mm off the one harry sent all was OK on that front.
This needs new ends putting on the brake pipes as the seats in the MC are a different shape from those in the Lotus MC but you can reach the original brake pipes and bend them into position. Here it is fitted.
It also uses the original Lotus cap, and keeps the low fluid indicator functioning on the dash.
Brake bias valve was then fitted. Needed a modification to the centre tunnel but fitted quite nicely in the end. I didn't want it sitting at the side of the centre tunnel and figured that it was out of harm's way putting it in between the seats.
Needed a bracket fitting, main line cutting and connecting at each end. Then a hole cutting in the centre tunnel.
On to the rear brakes. Get new AP 2 pots from Junks. I obviously go all anal in an attempt to make them match the front 4 pots, so I got to work: Take caliper:
Grind off the 'lotus' logo
Disassemble caliper and send for powder coating
Reassemble and fit custom cut AP stickers
Fit brake adapter brackets (from a fellow Selocer in Italy)
and then calipers.
Handbrake spot calipers purchased from a chap in Italy. Direct fit for either a 288/290 disc and also does one for a 308 disk. Supposed to be direct bolt up for some reason mine needed shimming in the body. Laser cut shims (black bit is the brake caliper spacer that goes between the two parts of the caliper)
Fitted and set up.
Moving to the engine bay. Remove SC and inlet manifold and dismantle. Remove rocker cover. Port IM opening where the CC bolts up to it (remove about 3-4mm across the whole width of the opening. Quick note – the long bolts keeping the SC and CC bolted to the IM were not very tight at all!
Sent IM to be wrinkle power coated in black. Here's a quick shot of it fitted, forgot to take one whilst it was off.
Whilst this was off, send the valve cover to be painted in wrinkle black.
Change (almost) all the engine hoses to black silicone (from red).
Fit bleed valve into the CC system near the core.
Reassemble and refit the IM and SC with a new thermal manifold gasket, and new SC belt.
Refit cam over with a Skunk 2 washer and bolt set.
Drain and remove fuel tank. Remove original fuel pump unit (currently only used for sender function) and replace with a VDO level sender. This needed a customer adapter machining which was duly done by ProAlloy.
Fitting this needs a thinner o-ring seal than the original or it's too tight to fit. Fit 2 wires from the sender up to the dash behind the clocks.
Then run wires down sills from new oil pressure and temp senders Back up to dash. Replace this gauge (oil pressure and temp)
With this gauge (fuel pressure).
Fit wire to pin 24 of the ECU (this is a multiplexer that puts out about 24 channels of data from the engine etc.) run wire up to dash in cabin.
Fit USB cable to ECU, run through to cabin. Fit USB 'socket' to cut out in bit between seats.
I did a lot of the prep, cosmetic stuff and sourcing the bits but the vast majority of the mechanics were done by Gav at Unit 4 in Burton. He hit lots of little niggles and problems on the way and had the patience of a saint! Was supposed to take 2 weeks and ended up being 6! As ever he did a brilliant job!
So that's the latest round of mods. Just waiting for a few more bits to do the next one!
Edited by Dr H, 14 January 2014 - 11:40 PM.