Following on from this post:-
http://www.midlandsl...00-hgf-diy-kr1/
and the porting I had done last year by Roger Fabry, a.k.a. kiwirog at

Sabre

Heads I have now decided to put phase 2 into operation, quite literally.
Last year I opted for Roger's KR1 upgrade, which modifies a standard non-vvc 'K' series head with 2mm larger dia. inlet valves and a load of porting work. The car still maintained its driveability and now revs so much more freely since having it done but, at the back of my mind I always knew I would one day put some different cams in too. That day has now arrived. The other week I went back over to Wisbech to see Roger and picked up some of his Newman Phase 2 cams, vernier pulleys and an adjustable fuel pressure regulator, also referred to as a power boost valve. This combination is a tried and tested route; there are already a number of people on seloc who have had it done with great results:-
The Phase 2 cams are a similar profile to the Piper BP270, a fast road cam, so I'm hoping to gain a bit more performance and still maintain a good degree of its current driveability:-
The verniers that Roger supplies are a very reasonable price compared to others on the market and utilise 6 bolts to secure each pulley to the hub. Roger mentioned that he'd seen other makes, using fewer bolts, which had slipped in use:-
The adjustable fuel pressure regulator is needed to bring the air/fuel ratio back into line. The combination of the KR1 and the cams means the head will flow a lot more air and it reaches a point at higher revs where the ECU can't provide enough fuel to maintain the correct mixture. I believe the OE regulator maintains a pressure of 3 bar and from other peoples experiences it seems that this needs to be raised to something like 3.2 bar. The other solution to this particular problem would be a programmable ECU but that's another chunk of money and rolling road time, we'll see how we go with the regulator for now:-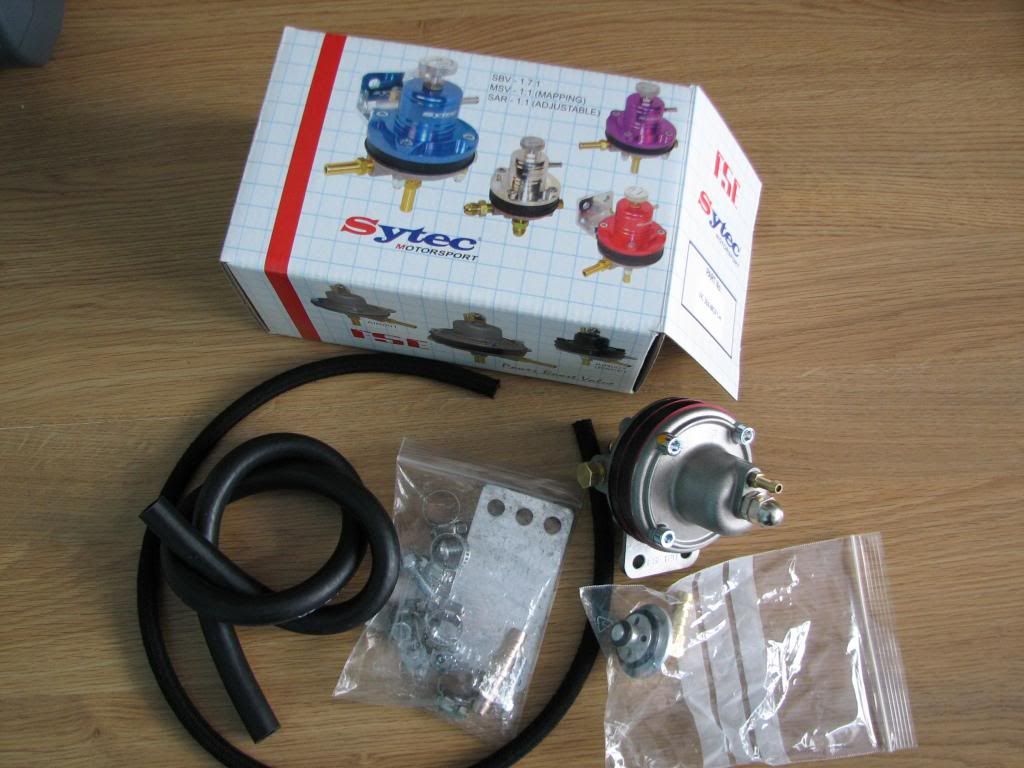 Prior to all this, a couple of years ago now, we had a MLOC rolling road day at Monster Motorsport in Loughborough and at that time my car gave a best figure of 126 BHP with max torque of 122 lb-ft. That was on a standard engine with standard panel filter, 48mm throttle body, a VVC plenum (more for looks than any performance gain), a Larini 4-2-1 through a standard cat and then a Larini Club Sport exhaust.
I haven't had my car back on the rollers since fitting the KR1 so to remedy that situation I have now got it booked in at Area 52
for this coming Friday:- http://www.area52aut.../shop/index.php
The KR1 upgrade on its own should be good for an additional 15BHP so in theory, I should expect to see something in the region of 140BHP on Friday, albeit on a different rolling road to before.
Fitting the Newman Phase 2 cams and verniers should then maybe unleash another 15BHP and I'll hopefully end up with something between 150 and 155BHP. Probably not too dissimilar to what a Sport160 actually puts out…..we shall see.