Evening all,
Thought i would share my engine and box conversion project with you all.
Really fancied a little more power and decided to go with a zr 160vvc motor and a b4bp box i picked up for a lucky 75 quid!
Stripped the b4bp box and bought a quaiffe lsd. Was going to fit a torsen but picked the quaiffe up for reasonable price.
also sourced steel caged bearings.
These are recommended for the diff only but thought i also would replace the other bearings while the box was apart too along with the input shaft seal and driveshaft seals.
diff with steel caged bearing and speedo drive fitted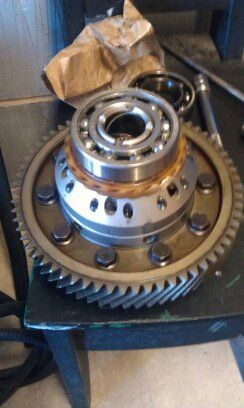 Picked up my engine from a lad who had it in a zr along with another gearbox thats only covered 3500 miles! c4bp so decent ratios too (ill stick with the b4bp though
) engine has covered 50000 and is a 160 vvc unit.
Saw engine running and seemed fine albeit from a slightly noisey vvc mech but i`m assure that they are a common sound on these engines. also has an eliseparts flywheel and ap racing clutch.
heres the engine in the mrs`s polo!
electrically the engine is a mems 3 ecu which is alot different from the non vvc of my mems 1.9 series 1. i want to utilise the ecu however as it has been remapped by z and f tuning. I started labelling up the two different looms but have now found somebody who has done mems 1.9 to 3 conversions in the past who is going to splice the two looms for me!
also, i`ve found somebody who is going to program my existing 5as unit to the mems 3 ecu as the signal between the different units are the same.
engine in its temporary home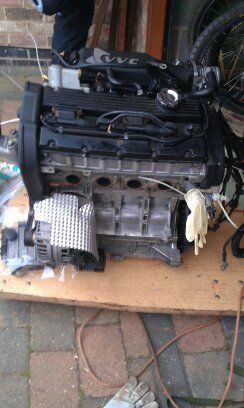 last thing to decide on was the exhaust.
Sourced a 2nd hand eliseparts 4-2-1 slip joint manifold and also got a solid lower mount.
couldnt help seeing what it was like so fitted it at the weekend, along with the alternator heatshield off the new engine and also a feed from the side vent to cool the alternator.
car seems alot quieter now but "seems" more nippy. Especially when accelerating onto the a52 in the morning!
anyway, the beginning of sept is when the conversion is planned for so making sure everything is in place.
any further input appreciated on what else i shoul prepare, tips etc
one question is, is when i get to split the suspension to take out the driveshafts, is there any way of splitting so i dont have to do a full geo again?
cheers,
ollie
.
Edited by olliecast, 05 October 2012 - 04:22 PM.